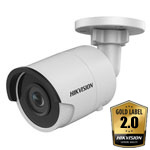 Mini Bullet Camera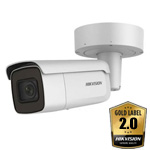 Exir Bullet Camera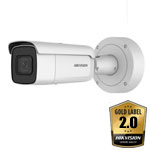 Varifocal Bullets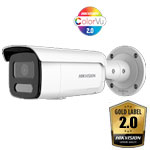 ColorVu Bullets
Cameras are a widely used means of securing buildings, homes and grounds. However, the requirements that apply to a security camera differ greatly per situation. Credex Alarm Systems therefore offers various Hikvision bullet cameras, each with their own specifications. From relatively simple cameras for monitoring or surveillance to cameras with deep learning algorithms for video analytics. The Hikvision bullet cameras produce high-quality images, even when the lighting conditions are not ideal.

Multifunctional
Because Hikvision develops bullet cameras that meet different requirements, these network cameras can be used in a large number of scenarios. So you can implement the Hikvision bullet camera in the way that best suits your needs. An additional advantage is that a Hikvision bullet camera gives you insight into certain situations based on the data that the device collects. These insights will help you make well-thought-out decisions more easily.

Pro Series (EasyIP)
The Hikvision bullet cameras that Credex Alarm Systems sells are part of the Pro series (EasyIP). The cameras in this product line contain exactly the components needed to achieve a perfect balance between high-quality images and good performance. New technologies such as ColorVu and AcuSense contribute to high image quality and minimize false alarms. The network cameras of the Pro series (EasyIP) also have a high user-friendliness and a friendly price.

4MP or 8MP
Credex Alarm Systems offers the various Hikvision bullet cameras in its range in 4MP and 8MP. But what is actually the difference? A 4MP (megapixel) camera, has a high resolution of 2560x1440 pixels. As a result, the images that the camera makes contain more details and therefore more information. Cameras with 4 or more megapixels are often placed outside, as they take more detailed images at night than cameras with fewer megapixels. Cameras with 8MP have an image resolution of 3840x2160 pixels. Roughly speaking, an 8MP camera captures images with twice as much information as a 4MP camera. The images are therefore in 4K Ultra HD. Another important difference is that a camera with 8MP needs a higher bandwidth in terms of network and requires more storage capacity on the hard disk.

More information
It can sometimes be difficult to decide which Hikvision bullet camera best suits your situation. That is why you can always contact us if you want more information about a specific network camera or if you have other questions. Feel free to contact us, we are happy to help you!

Hikvision EasyIP 4.0 CCTV IP Bullet Camera
> Hikvision's brand new EasyIP 4.0 Line is available in a wide range of lenses and resolutions from 2Mp to 8Mp.
> The EasyIP 4.0 Line uses H.265 + encryption to drastically reduce bandwidth and storage usage.
> The image quality is excellent with 3D noise reduction and Wide Dynamic Range technology.
> Using the IR LEDs, the cameras can deliver perfect HD images at any time of the day.
> Many Smart functions such as intrusion detection and line crossing detection.
> All cameras are equipped with a micro SD slot (max 128GB) for a stand-alone setup.
> Equipped with IP67-rated weatherproof housing, the EasyIP range is the perfect choice for home and business.