Hikvision Modular Video Intercom Systems
Hikvision has many different types of applications for intercom systems. These systems offer optimum convenience as you can see from anywhere in your home when the doorbell rings. In addition, you can also communicate (speak-listen connection) with the person at the door with a mobile application, without having to physically open the door.
With the Hikvision video intercom station system you get excellent image quality, the system can also record images in Full-HD. In addition, the system has a high audio quality that filters out noise, which is very useful for busy streets.

Hikvision Intercom: simple operation and multiple applications
Hikvision intercom systems offer both common Hikvision software and mobile app for remote control. This way you can even access the intercom system with your mobile, even when you are not at home. In addition, two-way speech is possible so that communication with the visitor is possible. The Hikvision intercom also offers many more options. For example, the intercom system can be used as a doorbell but also for visual monitoring of visitors. In addition, some of the systems offer the option to film and take pictures of suspicious activity. The systems can also be used to automatically open a door. Finally, the Hikvision intercom systems can be integrated with camera security, access control and alarm systems.

Hikvision Intercom: Easy installation
Hikvision IP Video Intercom uses standard PoE switches used to power the entire system. In addition, Hikvision 2-Wire Video Intercom only two wires for data and power, still with all the benefits of Hikvision IP intercom. The systems can use existing wires in case of renovation of buildings. Flexibility is important at Hikvision and you benefit from the following advantages:
Modular flexibility to choose from;
Simplified configuration;
Choose from an affordable Hikvision Intercom kits ;
Optional surface or recess mounting.

Hybrid: Hikvision 2-wire with IP solution
In our online webshop we offer 2 modular Hikvision intercom solutions that we believe offer good quality. Both the 2-wire and IP technologies can be used within one system, see also the image below: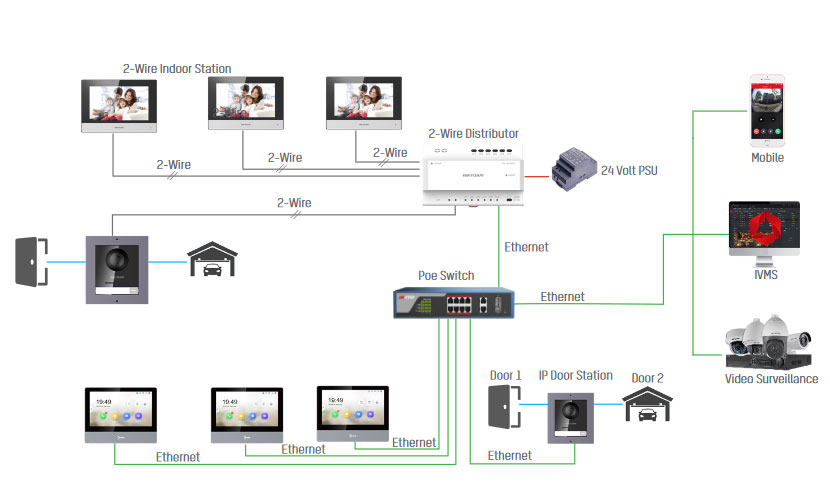 Buy Hikvision Intercom?
It might be useful to start with a Hikvision IP intercom kit, or, depending on the existing wiring, a Hikvision 2 wire intercom kit. It is an extremely suitable modular system to compose any desired functionality. The stainless steel intercom line gives your video intercom system a luxurious professional look. And with the different Hikvision frames you can create your own design.
Want to know more about Hikvision video intercom for your specific situation? Please feel free to contact up with us. We can of course also offer you intercom including installation.