Jablotron JA-82Y GSM communicator
The Jablotron JA-82Y GSM communicator module which allows remote access via GSM and the internet (via the Olink software).
Special Price
€298.00
€246.28
Regular Price
€355.00
A GSM communicator module which allows remote access via GSM and the Internet. Reports events to mobiles (SMS and voice messages) and monitoring stations. It has a built-in module for receiving pictures from the JA-84P camera PIR detector. The JA-80Q photo transmission module is only necessary with the older JA-80Y GSM.</p>

Features JA-82Y
1. Reports events by phone calls***, SMS messages and voice messages (you can record up to 7 messages for different events)
2. Remote control and programming of the system by phone via an authorised (mobile) phone keypad, by using the voice menu or by using SMS instructions;
3. Remote access via the Internet. The system can be accessed remotely via OLink 2.0.1 software and higher. This allows complete programming by installers and operating the system by end users in the same way as if they were using a keypad.;
4. The remote control of the system or appliances in the house by dialling in from an authorised number (free of charge with unanswered calls);
5. Service technicians can receive technical reports from the GSM communicator (low battery, power failure, etc.). It also allows remote access for diagnostics and
programming;
6. Transmit data/events to up to 2 monitoring stations (ARC - Alarm Receiving Centre or CMS - Central Monitoring Station);
7. Transfer images from the PIR-camera to a secure server.
*** Each phone number is dialled only once, regardless of whether the call is answered or not. Calling the next telephone number can be stopped by pressing # on your mobile phone.


Technical Information
* Power supply: 12V DC (from control panel);
* Current consumption (average): 35 mA (depends on GSM signal strength) ;
* GSM module frequency range: QUAD-BAND, 850/900/1800/1900MHz;
* General indoor environment (-10°C to 40°C): Class II;
* Security class: Level II;
* Safety compliance: EN 60950-1;
* EMC: ETSI EN 301489-1, ETSI EN 301489-7, EN 55022, EN 50130-4;
* Radio emissions: ETSI EN 301419-1 and EN 301511;
* Caller ID (CLIP): ETSI EN 300 089;
* Operating conditions: VO-R/1/12.2008-17;
* Complies with: EN 50131-1, EN 50136-2-1 ATS 4, ATS 5 using CID protocol and zero-delay in communication (sequence 06p0).


Updating the communicator firmware
Current firmware is accessible on our site under Manuals. Before updating, save your communicator settings to the OLink database. For updating, it is necessary to have one of these interfaces: JA-80T, JA-80BT or JA-82T and the program OLink > Central > Upgrade (v.2.0 or higher).
Be careful not to do anything during the updating process (don´t disconnect the cable or do anything with the PC) and wait till the end. Restart the communicator after the updating procedure via the 893 sequence, or turn off the main power and battery and after a few seconds turn them on again. Then wait for 1 minute. During this operation do nothing with the system till the red LED stops blinking. Updating can change the device registration key which you need for remote access via the internet.
Which of the 2 files do you need? (see Manuals)
LD61111 - memory chip is on the left side.
LD62111 - memory chip is on the right side.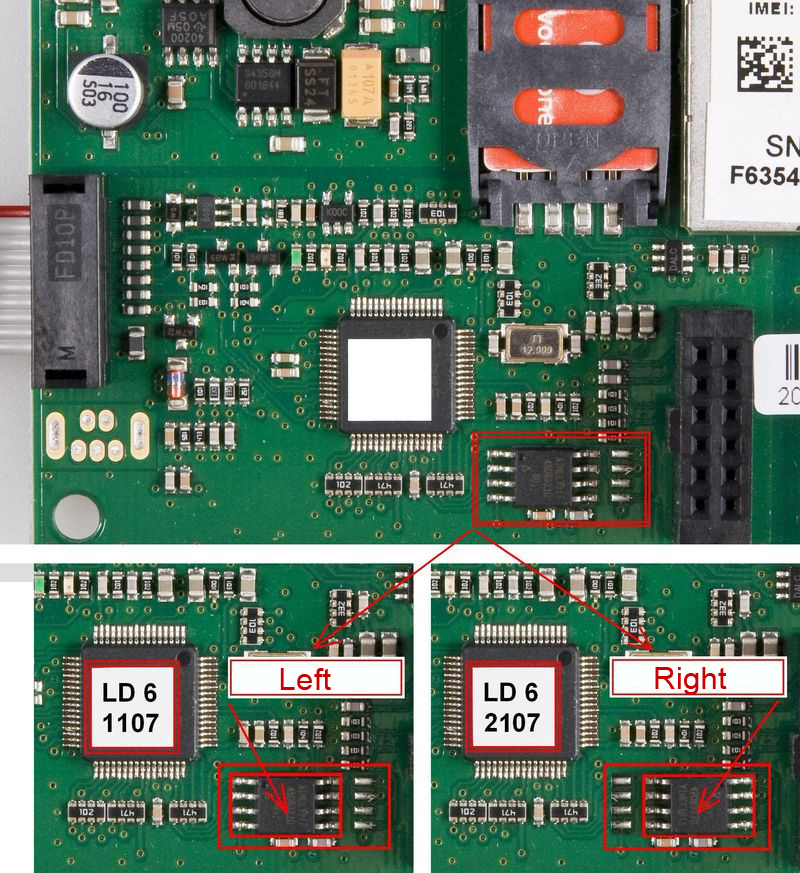 We found other products you might like!