Jablotron JA-150P wireless PIR Motion detector
Jablotron JA-150P wireless PIR Motion detector
2
5
5
1
The Jablotron JA-150P has a PIR sensor which covers up to 112m² of floor (optional pet, corridor and curtain lenses).
The JA-150P is a PIR motion detector designed for interior protection. It detects object movement having a human body temperature. The detection characteristic may be optimised by using the alternative lenses JS-7904 LONG HALLWAY, JS 7906 PET or JS-7901 CURTAIN. The immunity level is selectable to two levels. It is powered by two alkaline batteries.

SMARTWATCH
Function implemented for enhanced alarm reporting and battery life saving. Smartwatch is a default setting intended for the permanent monitoring of movement in the guarded area. If permanent movement is detected, three reports are sent every 20s. The next report is then sent after 2 minutes. If the detector does not detect any movement for 10 minutes, the mode with three reports every 20s is used again. It is addressable and occupies one position in the alarm.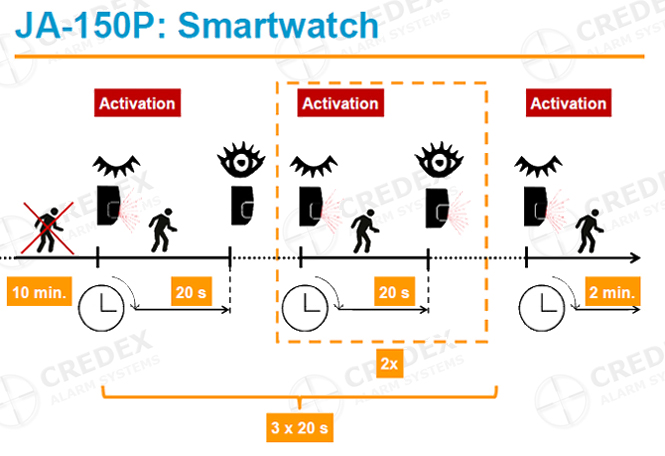 Specifications JA-150P
Power
2 x AA alkaline batteries (LR6) 1.5V 2400mAh
Please note: Batteries are not included
Typical lifetime
about 2 years (the longest smartwatch mode)
Communication band
868.1 MHz, JABLOTRON protocol
Communication range
about 300 meters (open area)
Recommended installation height
2.5 m above floor
Detection angle / range
110 ° / 12 m (standard lens)
Dimensions
95 x 60 x 55 mm
Classification
grade 2 according to EN 50131-1, EN 50131-2-2
Environment
EN 50131-1. general indoor
Operating temperature range
-10 to +40 ° C
Complies
EN 50130-4, EN 55022

Customer Reviews
100%
of customers
recommend this product
We found other products you might like!