Jablotron JK-84+82Y GSM wireless alarm KIT
Jablotron JK-84+82Y GSM wireless alarm KIT
2
5
5
1
The Jablotron JK-84Y OASiS 80 alarm kit with GSM module for complete control over your alarm system with the iPhone and/or Android remote control app.
Availability:
Out of stock
The Jablotron JK-84Y GSM is an OASiS alarm kit based on the JA-82 control panel with built-in GSM communicator. Complete wireless communication (868MHz protocol) with all components and full remote control with your mobile telephone or the Credex smartphone apps.

A Jablotron kit contains the following
(see also Accessories tab above):
► JA-82K - control panel, check the JA-82K for more information (size: 255x215x75mm);
► JA-82R - radio module, check JA-82R for more information;
► JA-82Y GSM - the new communication module, check JA-82Y GSM for more information;
► JA-83M - compact window/door detector, check JA-83M for more information;
► JA-83P - compact movement/PIR detector, check JA-83P for more information;
► RC-86 - remote control/keyfob buttons, check RC-86 for more information;
► PC-01 - proximity card, check PC-01 for more information;
► JA-81F - keypad unit, check JA-81F for more information;
► JA-80L - indoor siren, check JA-80L for more information;
► Batteries;
► Doorstickers.

A GSM communicator which allows
1. Alarming - Reporting to up to 8 telephone numbers, i.e. event SMS and calls. Adjustable to get only specific alarm information you want (± 35 different alarm messages);
2. Remote control - Remote control of the system by your mobile phone. Calling and using the phone keypad as a remote keypad system or by using SMS instructions;
3. Domotics - Two different switch functions (PGx and PGy) in the house can be remotely controlled, even just by dialing in (toll free) from mobile phones - for example, opening a garage, turning on lights, etc.;
4. Internet access - Remote access from the internet via the Olink software. Remote access makes it possible to determine the system status, and turn appliances on/off (e.g. the heating). Service technicians can use internet access for remote servicing. Access via the internet is protected by passwords and an encrypted protocol.
5. Maintenance - Service technicians can receive technical reports from the GSM communicator (low battery, power failure, etc.). It also allows remote access for diagnostics and programming (via mobile or computer)
6. Imaging - The transfer of photos from PIR-camera detectors
7. Connectivity - Communication with alarm receiving centers (ARCs) - all information is transmitted via IP protocol. Checks the connection with the ARC every minute.

Section splitting
Connected devices can be assigned to 3 sections: A, B or C. Assignment to a section has its effect when partial setting is used e.g. only A is set, AB is set, or ABC is set (which, for example, would be suitable for homes where A could mean afternoon setting, AB night setting and ABC total setting), or if the system was split into two independent partitions A and B, with a common section C. In the second case, each A or B section can be set individually, and C is automatically set when both A and B have been set by users. This would be suitable for two independent families in a single house, or two companies in one building.

Operation
The system can be operated by user codes and/or access cards/key-fobs (PC-01/02/04). The system can recognise up to 50 different users. Each of the possible 50 users can have his own 4-digit access code and/or access card. It is possible to program different reactions to access codes or access cards and if the system is split, it is possible to program which part of the building is accessible by a particular code or card. Setting (arming) and unsetting (disarming) is possible by card or code, and if a higher security level is needed it is possible to make it compulsory to confirm the validity of a card by code entry.

Programming
Programming the system is possible by OASiS keypads such as the wireless JA-80F or the hard-wired JA-80E, and also by computers running OLink software (with the JA-82T cable). Programming with the software is by far the most easy and organised option. Further options offer programming by mobile phone or the internet.
To connect a hard-wired keypad or a computer, the control panel is equipped with a digital bus provided by terminals and RJ connectors.

Outputs
The control panel has two alarm outputs: IW = internal (indoor) warning and EW = external (outdoor) warning. Both these signals are also available as wireless signals. There are also two programmable outputs in the control panel, PGX and PGY whose functions can be configured. The PG outputs are not only available as physical control-panel terminals, but also as radio signals for the control of UC and AC receiver outputs.

Structure
Jablotron's alarm system has a building block structure like LEGO, so you can create your own configuration or use our JK-82 starter kit. Installation of the kit in your house is a piece of cake! Let us know if you need any direction on how to install the components.

Example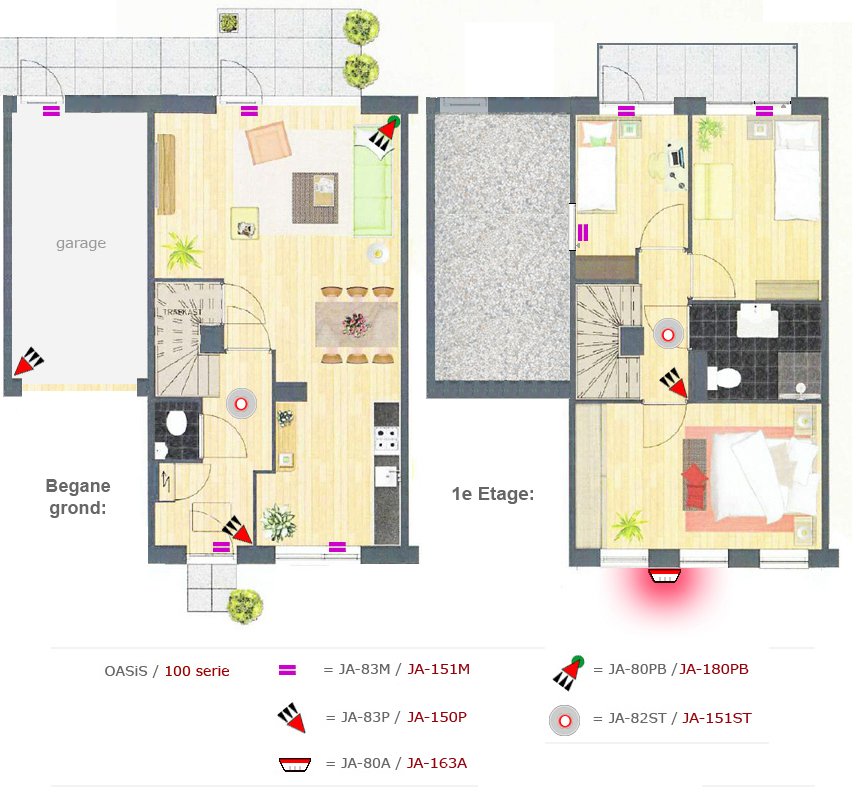 Customer Reviews
100%
of customers
recommend this product
Great system for a reasonable price
22 Mar 2014
Since there aren't that many reviews in English, i will submit in English. Great system with a lot of potential. Many component's available, delivered in no time on the doorstep. Because of al the different kind of sensors en control panels, a system able to configure for every house. Service desk has long opening hours, so no problems getting help in a instant. Setup is really easy, with a bit of help from the blog on this site. All components have separate instruction manuals, easy to read. With the USB cable and a windows system (unfortunately no OSX support yet) the setup is real easy aswel. Just connect your sensors, rename and configure system behavior. Because of the GSM module connection is always possible. Have to figure that one out, but i suppose that must be easy too. So if your looking for a system with potential? Stop looking, get your Oasis 80 system. Andries
Goed systeem en goede service!
18 Apr 2012
Ik heb het systeem gekocht en aangevuld met diverse melders, buitensirene en magneetcontacten. Werkt allemaal perfect met elkaar. Installatie wilde ik eerst zelf doen, maar na het lezen van de installatie handleiding toch uitbesteed. Dat is een hele goede keuze geweest en ik kan het iedereen aanraden. Kost wat extra, maar als je in een goed systeem investeert, dan wil je ook dat het goed werkt. Olink kan ik ook iedereen aanraden, een stuk makkelijker dan werken met de keypad alleen. Na installatie beheer ik het systeem via Olink en dat gaat prima, wijst zich eigenlijk vanzelf. Met betrekking tot de gebruikershandleiding zou ik Credex nog wel adviseren om daar iets meer in te doen. Maar ik heb Credex gewoon telkens gemaild na de installatie en kreeg binnen 2 uur antwoord waar ik ook wat mee kon. Dat werkt dus ook, prima service wat mij betreft, ik ben tevreden! Denis S.
Hi, I would like to know if a Jablotron Oasis GSM alarm system purchased 3 years ago is upgradable to the Jablotron 100 system or do all of the various components: siren, detectors, remotes etc have to be replaced. Thank you for your answer, jon
Question by: jon on Jun 13, 2015, 1:09 PM
The OASiS components are (unfortunately) not compatible with the 100 system.

In order to be able to do this you need the JA-110R 80 interface radio module.

Regards
Answer by: Frank Ligthart on Apr 9, 2018, 1:19 PM
We found other products you might like!